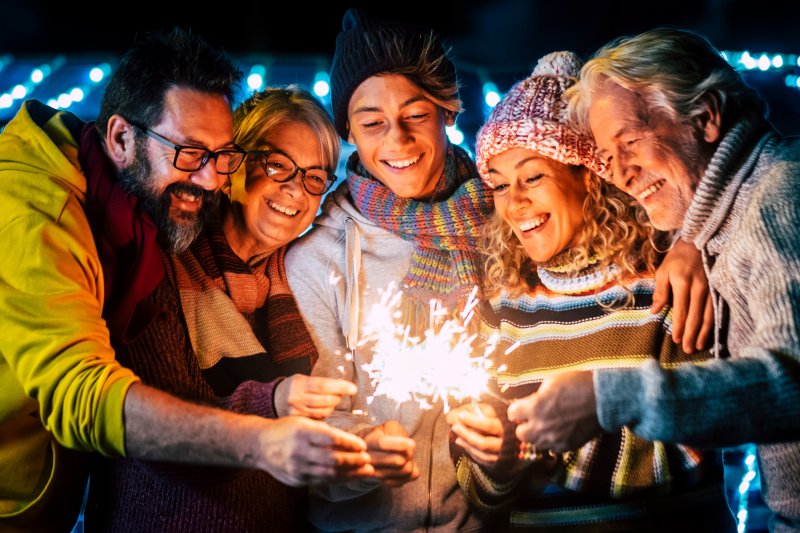 With the beginning of the new year coming up, you may be considering implementing some new lifestyle habits. Whether this is to travel more or spend some time in the gym, it's nice to set some goals to better yourself. That said, one aspect you should aim to improve is your oral health. Keep reading to learn five New Year's resolutions to practice for a healthier smile!
Floss Once a Day
Although brushing is essential for removing plaque, debris, and food particles from your smile, it won't always reach between your teeth. Since bacteria can collect the most in these areas, flossing is a crucial part of your oral hygiene routine. This is also helpful for cleaning beneath your gum line, preventing the risk of decay and gingivitis. Try getting in the habit of flossing at least once a day or after every meal for a healthier smile.
Moderate Your Sugar Consumption
Most people are aware that sugary foods can increase the risk of serious oral health complications later on, such as cavities and gum disease. To avoid this, you should consider starting the year off by cutting back on how frequently you consume sweets. Instead of reaching for sodas, make sure to drink plenty of water, and go for sugar-free gum instead of regular candies.
Pick Teeth-Friendly Treats
While not all foods are sugary, these aren't the only kinds of meals that can wreak havoc on your pearly whites. Those packed with processed carbohydrates and starches can also promote bacterial growth that can wear down your enamel. A great way to avoid this is to go for foods that are healthier for your smile, such as dairy products, which contain high amounts of calcium for stronger teeth and bones. Fibrous meals and veggies, like pears, apples, celery, and carrots also stimulate saliva production to help wash away harmful bacteria.
Give Up Tobacco
Not only does tobacco increase your risk of gum disease, but they also raise your chances of developing oral cancer. While smoking or chewing these products is a difficult habit to break, it's extremely important to find healthier alternatives. Be sure to speak with family, friends, and your dentist to find the most effective methods for quitting tobacco.
Visit Your Dentist Regularly
Other than brushing, flossing, and rinsing your mouth every day, you also want to see your dentist for checkups and cleanings every six months. This can help you maintain your teeth and address any developing issues they might detect early on. Be sure to schedule your first appointment at the start of the year to stay on track with good oral health.
One of the best ways to improve your overall quality of life is to preserve your pearly whites. Keep these New Year's resolutions in mind, and you'll set your smile up for success for many years to come!
About the Author
Dr. Kevin Murphy studied at the University of Illinois at Chicago College of Dentistry. He's also a member of several organizations like the American Dental Association and the American Academy of Periodontology. He provides a wide selection of high-quality services, including dental checkups/cleanings, periodontal treatment, and oral cancer screenings. If you'd like to schedule an appointment, visit his website or call 410-372-0202.